Welcome To Oakland County(MI) Links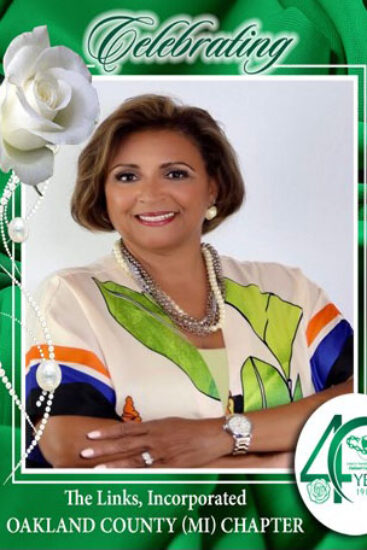 "I have found that among its other benefits, giving liberates the soul of the giver."
Dr. Maya Angelou
As Oakland County Links, our commitment to serve our community provides us with the opportunity to make a difference in the quality-of-life Oakland County residents can enjoy. Although we are acting on our passion to give back, when we see, feel, and hear the gratitude of the children, the parents, the seniors, and community leaders, we believe we have received much more than we gave. We are thankful to be in a position to deliver the service that we do and to work with those who partner with us to do so.
The Oakland County (MI) Chapter of The Links, Incorporated is a volunteer organization of accomplished African American women who are connected in friendship and serving their community by using their talents and resources to positively impact the lives of those in need in Pontiac and the surrounding areas.
Our Chapter was chartered on May 19, 1981, and we are proudly celebrating 40 years of service in Oakland County this year. In addition, our national organization, The Links, Incorporated, is commemorating its 75th anniversary this year and has grown to 292 chapters with more than 16,000 members servicing millions of people around the country, the Commonwealth of the Bahamas, the United Kingdom and beyond.
We consistently monitor the needs of the community and tailor our service accordingly. We have partnered with organizations with similar missions, and these partners have assisted us with delivering transformational programs, including: DAPCEP, the Detroit Area Pre-College Engineering Program; Science, Technology, Engineering, Art, Math and Medicine STEAMM programs; five National Engineering Society of Black Engineers' NESBE Jr. chapters in partnership with General Motors, serving students in Pontiac, Jamaica, and the Republic of Ghana.
We have also worked collaboratively with our partners at Oakland University to provide tutoring services to the students at the Pontiac Middle School, including exposure to STEAMM through technology and movie production.
We recently received a second grant of $10,000 from Baxter HealthCare to address kidney disease in the African American community. The Black KARE (Kidney Awareness Resources & Education) grant is designed to help prevent and reduce kidney disease in our communities by raising awareness through education of symptoms and available resources to help manage the disease.
Please browse our website for more information on our activities. We welcome you to become a partner or sponsor of our community programming. For more information, please complete the form in the Contact Us section of the website.
Yours in Service,
Lorine Mays-Parker, President
Oakland County (MI) Chapter
The Links, Incorporated
Transformational Programming
Science – Technology – Engineering – Arts – Math – STEAM: Education Into The Next Decade
Oakland County(MI) Links Video